The Alcatel Plus 10 is an ambitious tablet, because not content with just being a tablet it's also got a detachable keyboard so you can use it as a laptop. And it has a SIM card slot for mobile data and doubles up as a portable Wi-Fi hotspot.
That makes it more versatile than most slates, yet it's also quite cheap, while most two-in-one tablets (especially those with support for mobile data) cost a lot.
So is the Alcatel Plus 10 too good to be true or is it really the only portable computer you'll ever need?
Screen
The Alcatel Plus 10 has a 10.1-inch 1280 x 800 screen. That's a good size for a tablet, giving you plenty of space to work – which is vital if this is going to fill the role of a laptop.
It's also a decent size for watching movies on, but it's let down slightly by the resolution, which amounts to just 149 pixels per inch.
That's not terrible, but it is a noticeable step down from pricier slates like the iPad Pro, which also looks towards filling the role of a laptop.
Design
The Alcatel Plus 10 is plain but reasonably stylish, with a black, white or grey finish that looks especially good in silver, as that lends it a metallic sheen.
The bezels around the screen are fairly small too, with a 73.01% screen-to-body ratio, so there's not much wasted space, yet there's still plenty of room to hold it without obscuring the display, and overall the Alcatel Plus 10 is quite a thin and light slate, coming in at 259.3 x 156.2 x 8.35mm and 850g.
You'll find lighter tablets than that, but compared to most laptops the Alcatel Plus 10 doesn't weigh much at all, making it more portable.
Power
This is one area where you can sort of see how Alcatel managed to make the Plus 10 so cheap, as it's far from a powerhouse, but nor is it hugely underpowered, with a 1.92GHz quad-core Intel Atom processor and 2GB of RAM.
Fortunately, it runs Windows 10, which doesn't require a huge amount of power, and you should find the Alcatel Plus 10 is more than up to the task of web browsing, word processing and playing media.
If you're a gamer or into photo or video editing it might not cut it, but for basic work and entertainment the Alcatel Plus 10 will do just fine.
Camera
Few tablets excel as cameras and the Alcatel Plus 10 is no exception, but its snappers are better than you might expect for the money, with both a 5MP rear camera and a 2MP front-facing one – the latter of which can double up as a handy web cam.
They're basic, with no autofocus or flash, but you're unlikely to want to use these to take pictures anyway, and they'll do in a pinch.
Features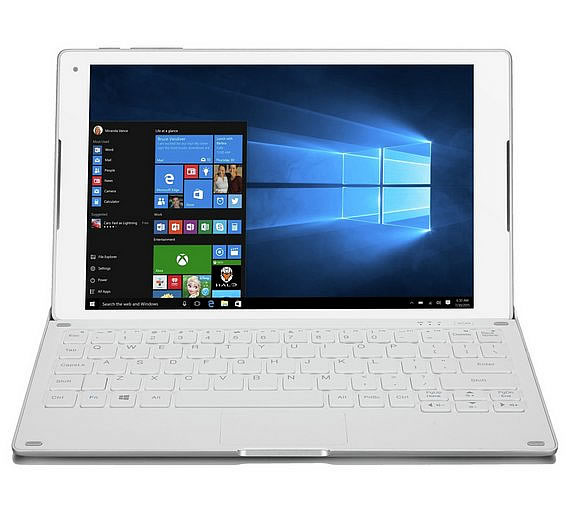 The main feature of the Alcatel Plus 10 is its detachable keyboard, which lets you use the tablet as a full laptop if you'd prefer, and with Windows 10 on board it's truly as useful as a laptop, allowing you to properly multitask and access the Cortana AI assistant.
You can also use the keyboard as a stand for watching movies, and the keyboard has a SIM card slot, allowing you to activate mobile data on the Alcatel 10 Plus, so you can get it online without Wi-Fi.
Better yet, it can also work as a portable Wi-Fi hotspot, allowing you to get up to 15 devices connected to the internet.
The speakers are worth a mention too, as there are two of them, which is more than you might expect in a budget tablet, and allows for decent sound even when not using headphones.
Battery life, memory and connectivity
The Alcatel Plus 10 has a 2580mAh battery, which isn't massive for a tablet, but hook the keyboard up and you get access to a 5830mAh battery too, making this a long-lasting slate.
You also get 32GB of storage, which is a decent amount for an affordable slate, and you're not limited to that either, with a microSD card slot supporting cards of up to 64GB, allowing you to triple the built-in amount.
Connectivity options include Wi-Fi, 3G, 4G and Bluetooth 4.0, which, thanks to the mobile data support, is more than some tablets offer.
Verdict
The Alcatel Plus 10 is a remarkably feature-packed tablet given how little it costs. It's more versatile than many slates that cost twice as much.
Is it a full laptop replacement? Arguably not, as it's not hugely powerful, and could be a bit cramped compared to a laptop. But if you want something light and portable with a long battery life that you can work on when out and about, the Alcatel Plus 10 is a great option.
And it's a good tablet too. The screen could be sharper but it's a decent size, with good speakers, lots of storage, and, again, good battery life.
For this sort of money you could probably just about afford a better laptop, or a better tablet, but not a device that can fill both roles this well.